The Baseball Graphs Blog
Monday, December 29, 2008
Relationships and graphing
From
my favorite Internet comic
: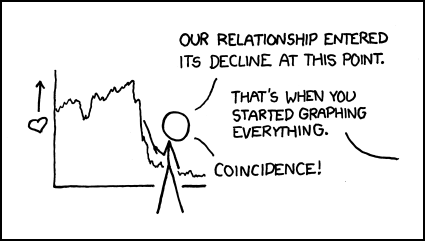 Posted by Studes on 12/29 at 04:39 PM
Graphs and Graphics
•
Permalink
Saturday, April 19, 2008
14 Pitches
The Phillies' Eric Bruntlett just had a tense 14-pitch at bat against Oliver Perez, including a foul ball that was almost a home run. I decided to experiment creating pictures of at bats from MLB's Gameday, and here's what that one looked like -- at least on a computer (stupid major league blackout).
By the way, Bruntlett walked.
Posted by Studes on 04/19 at 04:07 PM
Graphs and Graphics
•
Permalink
Friday, April 18, 2008
The Colbert Bump
This post is a little old, but it concerns one of my favorite TV shows, The Colbert Report.
The authors prove that the "Colbert Bump" actually does exist
, and they even break their findings into types of bumps. I really like how they take a "spaghetti chart" of lines and mold it into a graph that brings out the basic story. This is something more graphic artists should try to do.
Posted by Studes on 04/18 at 07:28 PM
Graphs and Graphics
•
Permalink
Have you seen Muckety?
Since I haven't posted anything here in a while, I figured we all could use a good non-baseball but good-graphic post. Have you seen
Muckety
? It's an online news source that specializes in stories and the relationships between people in the stories. Check out
the relationships between all the players in the recent McCain Girls video
.
This is a seriously good use of graphics for information. And now you know how Andy Samberg is related to Arianna Huffington.
Posted by Studes on 04/18 at 03:42 PM
Graphs and Graphics
•
Permalink
Thursday, March 20, 2008
Comments Turned Off
Just wanted you to know that I've turned the comments off for the Baseball Graphs blog ... which seems silly, since I have only posted a couple of times here in the past year. However, something or someone has been pounding the database, and we had to be taken off the tubes. I don't know that comments are the problem, but I'm turning them off to be safe.
Hopefully, I'll be able to turn them back on soon.
Posted by Studes on 03/20 at 03:32 PM
General
•
Permalink
Friday, January 04, 2008
New Historical Win Shares File
Hello! I haven't been by in a while, and I feel just sick about it. Hopefully, if you like my work, you've been reading my stuff at The Hardball Times. Keep on checking out THT, cause I'm not going to pick up things here for a while.
But I did want to let everyone know that I've updated the historical Win Shares file to include 2007 Win Shares. You can download this zipped file from ftp://ftp.baseballgraphs.com/winshares.
I've changed the format this year. There are now just two .csv files, which you can import into Access. If you want to import them into Excel, you'll have to chop them up a bit cause they're just too dang long. The first file contains all the detailed Win Shares info for every player from the past to the present. The second file contains "expected Win Shares" info for every player and year since 1900. You can use this second file to create your own "Win Shares Above Replacement" data.
Win Shares suffers from a lack of "Loss Shares." This sounds like it might not be a big problem, but it is. It's the difference between accruing 10 Win Shares in 40 games or an entire season. 40 games is a lot more impressive. The expected Win Shares data helps you get over this hurdle.
Expected Win Shares are the number of Win Shares an average player would have accrued, given that specific player's times at bat, innings in the field and batters faced from the mound. It's based on specific averages from each league and year. So if Hank Aaron had 29 Win Shares and 17 expected Win Shares in 1955 (he did), then you could say he was 12 Win Shares above average. Taking it a step further, you could even say he was 29-5 in 1955 (the year of my birth, by the way).
There's a problem with the won/loss approach. Some players had such good years that they accrued more than twice as many expected Win Shares, so they would wind up with "negative" loss shares. So it's not a perfect approach. But this info does allow you to get beyond the lack of Loss Shares.
The best approach is to calculate Win Shares Above Replacement Level, which is what we do at the Hardball Times. With this data in these files, you can now calculate your own replacement level. Here's a link to some work I did about Win Shares replacement levels a couple of years ago. The replacement approach accomplishes the same thing as Loss Shares.
Anyway, have fun with the data. I took a lot of extra time this year to make sure I got all the IDs correct, but you may find a mistake or two. Or more. Please let me know if you do.
Posted by Studes on 01/04 at 09:35 PM
Win Shares
•
Permalink
Friday, January 26, 2007
Ozzie Smith's Fielding Win Shares
Does Win Shares give Ozzie enough credit?
One of the more controversial aspects of Win Shares is the way in which it gives credit to fielders (and pitchers). In a nutshell, Bill James wasn't sure enough of his system to let it really work. He put boundaries on the overall impact fielding could have for a team, and he also didn't give fielders any negative fielding claim points.
As a result, it seems that Win Shares doesn't truly value great fielders. It recognizes them, but doesn't credit them with enough impact. To look at this a bit more closely, I thought we might use the case of Ozzie Smith.
Now, Win Shares certainly does recognize that Ozzie Smith was a great fielder. He racked up 139 fielding Win Shares in his career, which is the fourth-highest total ever (behind Rabbit Maranville, Bill Dahlen and Honus Wagner). But we can dig deeper than that, thanks to some research conducted by Chris Dial a few months ago.
Chris took Ozzie's Zone Ratings for the years 1987 to 1996 (the second half of his career). Using the data, Dial estimates that Smith saved 156 runs over how an average shortstop would perform in the field. That's a tremendous total for a fielder, particularly considering that this represented the "decline phase" of Ozzie's career.
How can we use this to evaluate Win Shares? Well, let's first take a specific year, 1988. No reason; just a good year. Dial estimates that Smith saved 23 runs more than the average shortstop in 1988. Let's translate.
In Win Shares, an average shortstop who played every inning of every game would accrue six fielding Win Shares. In 1988, Smith was credited with eight Win Shares, two more than average. Is two enough of an edge for the Wizard of Ahs?
As a general rule, ten runs saved adds a win to the team. Smith saved 23 runs, or contributed 2.3 wins more than the average shortstop. Each win equals three Win Shares, so Smith actually contributed 7 Win Shares above average. Add back the six Win Shares of the average fielder and you can see that Ozzie should have been credited with 13 fielding Win Shares, not eight. He was shortchanged five Win Shares.
Win Shares provided a great public service by including the impact of fielding, something that only a few other statistics do. But for the Ozzie Smiths, Rabbit Maranvilles and Adam Everetts, it didn't get it right.
Posted by Studes on 01/26 at 03:50 PM
Win Shares
•
Permalink
Saturday, January 20, 2007
Gary Moore Responds
From the author of "Playing with the Enemy"
The author of "Playing with the Enemy" read my recent review and was nice enough to respond in an e-mail. With his permission, I'm reprinting his message here. Although this letter didn't change my viewpoint, I really appreciate the fact that Gary is open enough to have a dialog like this.
Dave,
First of all, let me thank you for your interest in my dad's story. "Playing with the Enemy" clearly states it is a story "based upon true events." It is not nor was it ever intended to be a strict historical footnoted style non-fiction biography that accounts for every facet of my dad's life. It is a story of character, persistence, and an essay on what a man can do with a second chance in life—wrapped up in my dad's life experiences.
Because my dad was not a historical figure and never made it far in professional baseball, there are few records or written accounts to rely on. There is the possibility my dad played a bit more baseball after leaving Greenville, because it was a long time before he finally made it back to Sesser. That period of his life is a complete blank slate. But at the end of the day, "Playing with the Enemy" is a son's interpretation of his father's life. As I said, it is a character study and snapshot of small-town baseball and a look at a few family members of that were part of what has been dubbed our Greatest Generation.
My dad never told me specifically who the pitcher was in "Playing with the Enemy," or if he did, I did not recognize the name. It has been over 23 years ago that the conversation took place. As I tell it in the book, I witnessed a meeting between my dad and Elroy "Roy" Face at Wrigley Field in the early 60's. I was quite young then, but it was obvious they knew each other well.
It would be like you taking your son to PacBell Park and Barry Bonds running over to greet your father at the fence in front of you. But how did they know one another? I truly don't know, but they must have played together somewhere or at the very least, met and nurtured a friendship. At the time, my dad drove a bread truck and had been out of baseball close to 15 years. How would a bread truck delivery man from a small town in Illinois know Roy? I don't know.
But at the end it is not intended as what you called a "heavy hint" that it is Face. In fact, the book specifically says that Gene never saw Ray Laws again. The Face mention is as it states, memories of a young son who is trying to piece together his fathers past.
As recounted in the book, I found out about much of my father's history in one very long single conversation the night before he died (and a lot more interviewing people who knew and played with him). I wish I had taken notes that night, but it never occurred to me it would be one of our last conversations.
I spoke to dozens of people who confirmed most aspects of my dad's saga, but the Roy Face/Gene Moore connection remains a mystery and is not even an aspect of the story. It is a recollection mentioned at the end of the story.
I hope that helps clarify things a bit, and I am grateful you took time to read and comment on "Playing with the Enemy." I deeply appreciate it.
Gary
PS- By the way, Publishers Weekly, the standard of the publishing industry this week awarded Playing with the Enemy with a "Starred Review."
Posted by Studes on 01/20 at 07:35 AM
Permalink
Wednesday, January 17, 2007
Playing with the Enemy
Not quite a book review.
I just finished reading Playing with the Enemy, which seems to have created a mini-sensation, at least judging by the number of superlative reviews it has received at Amazon. Playing with the Enemy is an emotional and remarkable story about a young baseball player who was evidently quite talented but lost his chance to play in the majors after serving in World War Two. It's a tale of heroics, lost ways, self-sacrifice and redemption. In other words, it's tailor-made for a sap like me.
Before continuing, I should tell you that Field of Dreams brought tears to my eyes. Heck, so did the book Shoeless Joe. So does It's a Wonderful Life. Still. So I'm a sucker for stories like this. And Playing with the Enemy desperately wants you to know that it's a story like this.
Check out the subtitle: A Baseball Prodigy (like prodigal son? sob…), a World at War (bluebirds over white cliffs of Dover? choke…), and a Field of Broken Dreams (Sob!!). Plus, a ribbon on the front declares that Playing with the Enemy will soon be a major motion picture! Has Kevin Costner signed up yet?
There is a plethora of recommendations in the front ("a passion play…") as well as acknowledgements (in which the author expresses his undying gratitude and love to anyone he's ever known), a foreword (by baseball "legend" Jim Morris) and an introduction (by someone I haven't heard of). Yes, the publisher wants you to know just what it is you've opened, even if you would prefer to find out for yourself. This is the sort of publicity usually reserved for bestsellers, not newly published books.
As you can probably tell, I'm not only a sap, I'm a cynic, too. So I began the book expecting to be disappointed. I must say, though, that the story is terrific. It starts with a son finding out that his father has a hidden secret, and there's a dark reason his Dad never attended any of his baseball games. It has to do with the Dad's lost opportunity and the bitterness he still carries inside him. I don't want to give away much of the plot, but I will say it concerns the war erupting at the wrong time, guarding Germans in a prison camp, playing ball with them, getting a chance to play in the minor leagues, a terrible career-ending injury and a second chance in which the hero rubs shoulders with future major leaguers.
I don't think I've given too much away, because the manner in which these events unfold is the point of the book. The author/son admits upfront that he's not a writer, and it shows. His doesn't really have an ear for dialog, his descriptions are mostly flat (though he manages a few good ones) and he likes to hammer home points (how many times can one man be told he would have been a major league star?). But his pacing is good, and the story carries you along. And, yes, I did tear up at a point or two.
In the end, however, you're left with a question: is the story true? If so, how true is it? The writer is coy on the subject; he created composites for most of his characters and he freely admits that the story is based on only his remembrance of his father's story (two decades ago) as well as conversations with other acquaintances. Nowhere, however, does he explain how much of the story is true or isn't, or what he found in his research. In fact, it doesn't appear that he did much research at all.
Near the end of the book, he drops a heavy hint that his Dad played in the war and in the minors with Roy Face. But he couldn't have: Face never served in the war nor did he play in the minors when his Dad did. In fact, there is no record of a Gene Moore having played minor league ball in Greenville, Mississippi in the Cotton States League in 1949. The only facts the author presents that can be verified appear to be false.
This is a real shame. The power of this story lies in its truth; if made up, it's just an overwrought story. The details should have been researched more thoroughly (with so many baseball resources available today, there's no excuse not to) and the author should have been more upfront regarding which portions of the story were verified as legitimate and which were embellished.
So if you read Playing with the Enemy, enjoy the ride and take a hankie, but take it with a grain of salt.
Posted by Studes on 01/17 at 09:05 AM
General
•
Permalink
Monday, January 15, 2007
Seaver, Ryan and Palmer
Comparing three all-time greats
Nolan Ryan, Tom Seaver and Jim Palmer all pitched around the same time with great success and all three have been inducted into the Hall of Fame. Yet they had very different pitching styles. Here's a quick review based on the Fangraphs graphics (a blogger's best friend):
First off, take a look at their strikeout rates. Ryan, of course, was the greatest strikeout pitcher of all time. Seaver was also excellent but Palmer wasn't even an average strikeout pitcher for most of his career:
You might also notice that Seaver and Palmer followed typical "aging" patterns. For instance, Seaver lost a lot of of zip when he turned 35, his second season with the Reds. Ryan, however, remained an elite strikeout pitcher his entire career. Next, here's a graph of their respective walk rates. This graph may be a bit hard to read, but it shows that Ryan was a wild dude while Seaver had extraordinary control. Palmer was better than average:
Different aging patterns. Ryan's control improved as he aged; Seaver's deteriorated until he renewed his control at age 40. Palmer's pattern looks pretty random. Here are their home run rates. All three had home run rates significantly below average. That would be expected with Ryan and Seaver because strikeout pitchers give up less hits in general. However, Palmer's HR rate was also very low until he turned 35—a key to his success.
A little later, I'll graph two other important aspects of their success: Batting Average on Balls in Play, and runner left on base.
Posted by Studes on 01/15 at 07:18 AM
Graphs and Graphics
•
Permalink